You are here
Back to top
Priest Lake Lovers: Poems and Prose Inspired by a Lifetime of Summers in North Idaho (Paperback)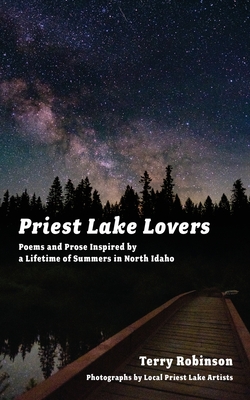 $26.35

Usually Ships in 1-5 Days
Description
---
In Priest Lake Lovers, Terry Robinson, Idaho Writers League 2017 Poet of the Year, tells the story of his half-century love affair with Priest Lake, Idaho, through a collection of timeless poems. Many poems are paired with local photographers' pictures of the Lake area and photos from the Priest Lake Museum collection. From young love to pets lost to old age, from beach bonfires to late-night boat rides, from encounters with wildlife to musty old cabins, these impactful poems will resurface memories and emotions long buried in the reader's past. During poetry readings, groups have been left in tears, laughter, and wanting to experience the Lake's magic in person. These poems are about love, nature, change, playing on the water, and even the dogs we bring to the Lake. They will make you ache for the past and appreciate the present. Throughout the book, the author holds an optimistic view that change, though painful, can be positive. If you have yet to visit Priest Lake, or it has been a while, this book will leave you wanting to make your way there soon. Priest Lake's frequent visitors will be reminded how fortunate they are to be a part of life in North Idaho.
Priest Lake Lovers
We slip away onto the lake
Into the night.
Her blonde hair shimmers softly
In the moonlight.
Her hand slides into mine;
I squeeze back gently.
We're making a passage
Not taken lightly.
Our fingers intertwine;
Her tender touch warms my heart.
Life couldn't be more complete;
Nothing will pull us apart.
Together now fifty years;
I follow her light.
Her grey hair shimmers softly
In the moonlight.