You are here
Back to top
The Boys from the Bushes (Paperback)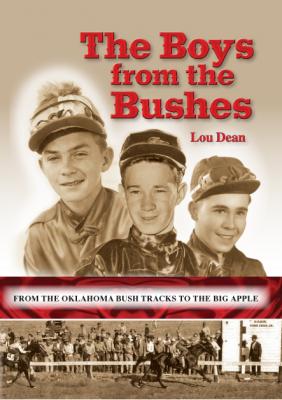 Description
---
Boys from the Bushes is the fascinating true story of thirty men and women who began riding as early as ten on the Oklahoma bush tracks and went on to dedicate their entire lives to the sport of horse racing.



Forty years before pari-mutuel betting was legalized in Oklahoma, when men began to return home from World War II, the anti-gambling sentiment temporarily relaxed and the Oklahoma bush tracks exploded into an industry.



Hundreds of farm boys and a handful of girls with a passion to ride jumped into the untamed arena of the Oklahoma Bush Track Circuit, embracing a dream to become a jockey. Riders were the sons and daughters of farmers, horse owners and trainers. These underage kids rode in moccasins or old shoes and had no helmets, but they were experienced riders with a rugged toughness and a stubborn will to win.


Praise For…
---
If you have a desire to learn about a vanishing breed of passionate and resilient people whose collective stories are nothing short of amazing, then this book is tailor-made for you. I guarantee that you will not be disappointed. In Boys From The Bushes, award-winning author Lou Dean presents the true stories of thirty incredible men and women who as children began competitive horse racing on makeshift tracks in pastures that became breeding grounds for their dreams of becoming professional jockeys. Many of them went on to greater heights in the sport of horse racing. Thanks to the author s incredible research and skillful writing, the journeys of the youngsters who rode the circuit of Oklahoma bush tracks in the 1940s and 1950s will inspire everyone who reads this book.

Michael Wallis, best-selling author --Direct Quote



If you like horses and you like history, you will love The Boys From The Bushes. The July 2012 issue of TRACK contained Lou's article on the life of Cowgirl Hall of Fame member Miss Wantha Davis and her career as a jockey during the 1930s, 1940s, and 1950s. No one can capture the spirit of those times any better than Lou.

--Ben Hudson, Owner/Publisher TRACK Magazine --Direct Quote