You are here
Back to top
The Fang of Bonfire Crossing: Legends of the Lost Causes (Hardcover)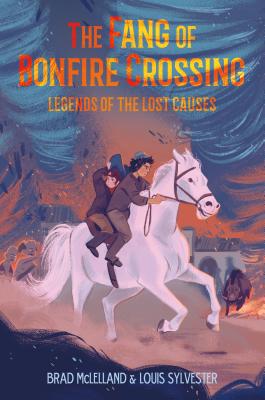 Description
---
Dark magic meets the Old West in this rip-roaring middle-grade adventure series filled with scrappy heroes and diabolical villains.

Keech Blackwood and his band of fellow orphans demand justice for their fallen families. But the road to retribution is a long and hard-fought journey.
After defeating Bad Whiskey Nelson, the man who burned Keech's home to the ground, the Lost Causes have a new mission: find Bonfire Crossing, the mysterious land that holds clues to the whereabouts of the all-powerful Char Stone. Along the way they'll have to fend off a shapeshifting beast, a swarm of river monsters, and a fearsome desperado named Big Ben Loving who conjures tornadoes out of thin air. It's an epic standoff between the Lost Causes and the outlaw Reverend Rose, a powerful sorcerer who would be unstoppable with the Stone in his possession.
With the world—and vengeance—hanging in the balance, the Lost Causes are ready for battle.
Praise for Legends of the Lost Causes:
A Junior Library Guild Selection
"This is a fun and exciting story, written with the utmost respect for the Osage culture." —Wah-Zha-Zhi Cultural Center
"A rollicking adventure filled with mystery and magic that crackles like a brush fire." —Emma Trevayne, author of The House of Months and Years
"Thrilling, dark, and full of heart, this is a Western like none I've ever read. I loved it." —Stefan Bachmann, author of The Peculiar and The Whatnot
About the Author
---
Born and raised in Arkansas, Brad McLelland spent several years working as a crime journalist in the South before earning his MFA in creative writing from Oklahoma State University. A part-time drummer and singer, Brad lives in Oklahoma with his wife, stepdaughter, a mini-Aussie who gives hugs, and a chubby cat who begs for ham.
Brad is coauthor, with Louis Sylvester, of Legends of the Lost Causes.
Louis Sylvester is a professor at Lewis-Clark State College in Lewiston, Idaho. He earned his PhD from Oklahoma State University. He enjoys playing tabletop games from his collection of over 1,000 card and board games, watching western films, reading fantasy novels, and spending time with his wife and two dogs.
Louis is the coauthor, with Brad McLelland, of Legends of the Lost Causes.
Praise For…
---
A Junior Library Guild Selection
"This is a fun and exciting story, written with the utmost respect for the Osage culture." —Wah-Zha-Zhi Cultural Center
"A rip-roaring adventure . . . filled with cowboys, magic, and a horde of undead villains that'll have you hunkered down in your bedroll, turning pages long after the campfire has died down." —Heidi Schulz, author of the New York Times bestselling Hook's Revenge
"A rollicking adventure filled with mystery and magic that crackles like a brush fire." —Emma Trevayne, author of The House of Months and Years
"Thrilling, dark, and full of heart, this is a Western like none I've ever read. I loved it." —Stefan Bachmann, author of The Peculiar and The Whatnot
"The Old West lingo-laden dialogue is pitch-perfect—not to mention contagious. It's rare to see a Western in middle grade fiction—especially one that, like this one, eliminates some of the genre's more harmful stereotypes of Native populations . . . [this] will surely gain more than a few young fans." —School Library Journal
"Vividly drawn characters, evocative writing, thrilling suspense." —The Buffalo News
"McLelland and Sylvester imbue the adventure with a Louis L'Amour-esque flair refreshed for today's readers by the thoughtful incorporation of American frontier history and Osage culture." —The Bulletin of the Center for Children's Books
"Cowriters McLelland and Sylvester incorporate aspects of Osage culture and legend into this action-packed series starter. Part western, part zombie flick, this pits scrappy, resourceful kids against some menacing villains—always a recipe for success." —Booklist