You are here
Back to top
Crazy Woman Creek: Women Rewrite the American West (Paperback)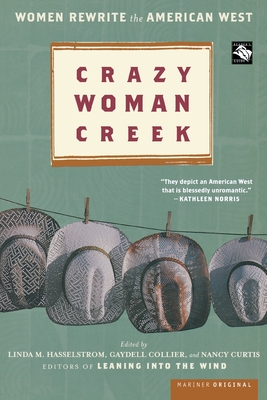 $18.95
Usually Ships in 1-5 Days
Description
---
Crazy Woman Creek is a collection of prose and poetry about real women in the West and their connection to a larger whole. Long troubled by the misguided images of skinny cowgirls on prancing palominos, the editors embarked on a mission to set the record straight. They wanted these western women to reveal the realities of their lives in their own words.
In Crazy Woman Creek, 153 women west of the Mississippi write of the ways they shape and sustain their communities. Whether these groups are organized, imposed, or spontaneous, this collection shows that where women gather, anything is possible. Readers will encounter Buddhists in Nebraska, Hutterites in South Dakota, rodeo moms rather than soccer moms. A woman chooses horse work over housework; neighbors pull together to fight a raging wildfire; a woman rides a donkey across Colorado to raise money after the tragedy at Columbine. Women recall harmony found at a drugstore, at a powwow, in a sewing circle. Lively, heartfelt, urgent, enduring, Crazy Woman Creek celebrates community — connections built or strengthened by women that unveil a new West.
About the Author
---
Based in Wyoming, Gaydell Collier is the coauthor of several books on horsemanship.
LINDA HASSELSTROM is the author of many highly acclaimed books of nonfiction and poetry and the coeditor of Leaning into the Wind and Woven on the Wind. She divides her time between Wyoming and South Dakota.