You are here
Back to top
Charlie and the Christmas Kitty: A Christmas Holiday Book for Kids (Charlie the Ranch Dog) (Hardcover)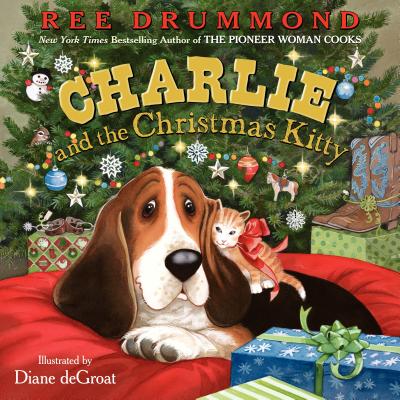 $18.99

Usually Ships in 1-5 Days
Description
---
Ree Drummond, the #1 New York Times bestselling author of the Pioneer Woman Cooks series of books, and her lovable hound Charlie are back just in time for the holidays in Charlie and the Christmas Kitty.
With expressive illustrations by Diane deGroat, a delicious recipe from Ree Drummond, and the hilarious antics of Charlie, this hardcover picture book makes an excellent gift.
In this follow-up to the New York Times bestselling picture book Charlie the Ranch Dog, Ree Drummond—the Pioneer Woman herself—delivers a story about getting into the holiday spirit and finding the good in all. Even though Charlie may not have put a kitty on his Christmas list, he learns that if you keep an open heart, new friends can come in unexpected packages.
Why is there a great big tree in the house?!?
And why are all these boxes underneath it?
Hey—what is that?!? Where did it come from?
Uh-oh. This isn't good. . . . This isn't good at all!
About the Author
---
Ree Drummond is the author of seven #1 New York Times bestselling cookbooks in the Pioneer Woman Cooks series, the New York Times bestsellers Frontier Follies and The Pioneer Woman: Black Heels to Tractor Wheels, and many bestselling children's books. Her award-winning website, The Pioneer Woman, was founded in 2006 and showcases her cooking, photography, and anecdotes about country life. Her top-rated cooking show, The Pioneer Woman, premiered on Food Network in 2011, and in the years to follow, Ree launched The Pioneer Woman magazine, a well-loved line of kitchen and home products, and a restaurant, store, and other businesses in her hometown of Pawhuska, Oklahoma. She lives on a working ranch with her family, horses, cows, and pups.
Diane deGroat is the illustrator of more than 120 children's books and the author-illustrator of bestselling books about Gilbert, including Ants in Your Pants, Worms in Your Plants! (Gilbert Goes Green); April Fool! Watch Out at School!; Mother, You're the Best! (But Sister, You're a Pest!); Last One in Is a Rotten Egg!; and the New York Times bestseller Roses Are Pink, Your Feet Really Stink. Diane lives in Amherst, Massachusetts.