You are here
Back to top
Charlie the Ranch Dog (Hardcover)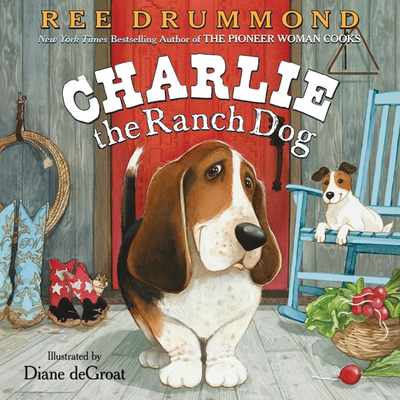 $17.99

Usually Ships in 1-5 Days
Description
---
Ree Drummond, the #1 New York Times bestselling author of the Pioneer Woman Cooks series of books, introduces us to her lovable hound Charlie in Charlie the Ranch Dog.
With expressive illustrations by Diane deGroat, a delicious recipe from Ree Drummond, and the hilarious antics of Charlie, this hardcover picture book is an excellent gift.
Meet Charlie. He's a ranch dog. Breakfast is his life, especially when bacon is involved. Charlie has dangly ears, floppy skin, and big fat paws. And he loves living in the country. That's because he works like a dog...fixing fences, gardening, and helping his family out on the range. A ranch dog's work is never done!
This endearing picture book for dog lovers everywhere shows readers that even though you may love bacon and naps most of all, working on the ranch is all about hard work and determination. A New York Times bestseller!
About the Author
---
Ree Drummond is the author of seven #1 New York Times bestselling cookbooks in the Pioneer Woman Cooks series, the New York Times bestsellers Frontier Follies and The Pioneer Woman: Black Heels to Tractor Wheels, and many bestselling children's books. Her award-winning website, The Pioneer Woman, was founded in 2006 and showcases her cooking, photography, and anecdotes about country life. Her top-rated cooking show, The Pioneer Woman, premiered on Food Network in 2011, and in the years to follow, Ree launched The Pioneer Woman magazine, a well-loved line of kitchen and home products, and a restaurant, store, and other businesses in her hometown of Pawhuska, Oklahoma. She lives on a working ranch with her family, horses, cows, and pups.
Diane deGroat is the illustrator of more than 120 children's books and the author-illustrator of bestselling books about Gilbert, including Ants in Your Pants, Worms in Your Plants! (Gilbert Goes Green); April Fool! Watch Out at School!; Mother, You're the Best! (But Sister, You're a Pest!); Last One in Is a Rotten Egg!; and the New York Times bestseller Roses Are Pink, Your Feet Really Stink. Diane lives in Amherst, Massachusetts.
Praise For…
---
"The comic irony of the text will amuse readers, and Charlie's quirks will win many fans." — School Library Journal
"Young readers will chuckle at the unabashed, obvious humor and will especially enjoy finding the hidden, unnamed chipmunk buddy on every page." — Kirkus Reviews
"Adult readers will recognize in Charlie's voice the understated humor that has made Drummond's blog so successful; kids should find it irresistible." — Publishers Weekly
"DeGroat's cozy illustrations picture a beguiling Charlie on a comfortable ranch with appealing accoutrement. An observant chipmunk adds an extra touch of humor, and a lasagna recipe is thrown in for good measure." — Booklist